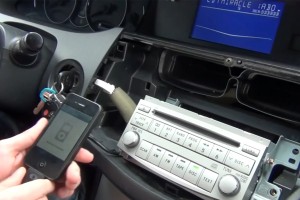 I came into this 2007 Avalon as a family gift. Eleven years old and 35,000 miles. It still has that new car smell. Installation was a snap. I wanted to go for complete functionality, so hiding the unit under the center console was not what I had in mind. I chose to mount the unit in the smaller (front) box in the center console.
I removed the aft center console (two screws in the front and two 12 mm bolts in the bottom of the large (back) box. You must first remove the "felt" (cardboard) panel from the bottom – nothing but gravity holds it in. Pull the whole thing back, then up and out. Now it is easy to drill a 1/2 inch hole in the front middle of the bottom and then open it up with a file to accommodate the connector (that goes into the back of the head unit) plus the microphone plug. Two more 1/4 inch holes can be drilled in the front of the box in order to fasten the unit with a zip tie. Double stick tape could work also, but the adhesive gives out over time. Use scissors to cut a notch out of the felt-like panel that goes in the bottom of the box.
I had wanted to put everything in the aft box, but the wires aren't long enough.
Works great.
Maybe more functionality will be available in future versions (firmware upgrade?)
- Chris Slaymaker